Sound deadening, Insulation and Carpeting
Huets are able to offer a bespoke installation service for your recreational vehicle.
You may own a VW Transporter , LandRover new or classic or something completely different. Either way we are able to transform the driving experience by applying Dynamat sound deadening to the interior which will dramatically reduce road and engine noise and also insulate the interior as it rejects heat.
After the Dynamat and insulation have been applied we can the trim the interior panels with a high quality carpet . This is installed by our experienced engineers and will deliver a fantastic finish to trimming of the van.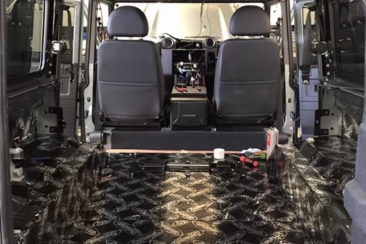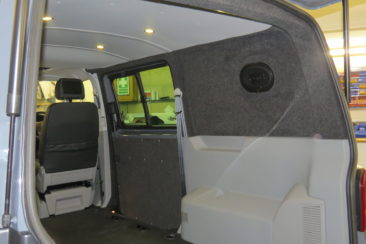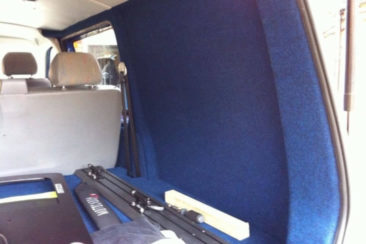 Lighting and Power Points
L.E.D lighting is a very popular solution to poor light given out by standard interior lights.
The lights are available in many formats, flush round, strips or stand alone so what ever the vehicle we find a solution.
Additional power points for charging devices are available as standard 12 volt sockets or as USB sockets . Flush fitting they provide a neat and tidy way of keeping hand-held devices charged on the move.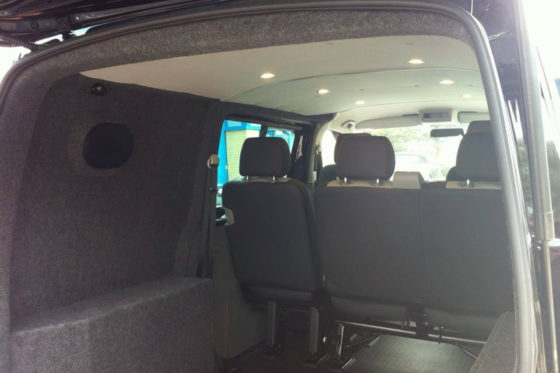 Power Solutions
Split charge systems with additional battery's can be installed to vans and leisure vehicles. These will protect against the vehicles starter battery going flat and provide a 12 volt power solution in your vehicle.
Investors , lighting and additional power supplies can be linked in to your leisure battery . Solar panels are another great way of keeping the leisure battery topped up , more details can be found in the Motorhome section.
Entertainment
We are able to provide many ways of keeping you entertained either in transit or on site.
Dedicated 12 volt leisure Megasat TVs are available to link with terrestrial or satellite signals .
Headrest or drop screens with built in DVD or USB ports are available in many sizes and fittings to suit different applications.
Audio upgrades can be designed and installed to suit your needs , from a simple speaker upgrade to a full system with Digital radio , Bluetooth, DVD , IPod integration linked to a amplified audio system .
Reverse Cameras
We have a selection of cameras and screen to suit the many different applications and fittings . All the cameras we supply are high quality with wide angle vision to give the maximum amount of information on your monitor.
The picture can be viewed either on an in dash screen, stand alone monitor or mirror monitor.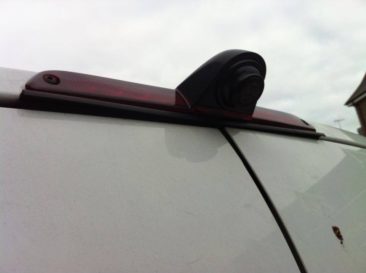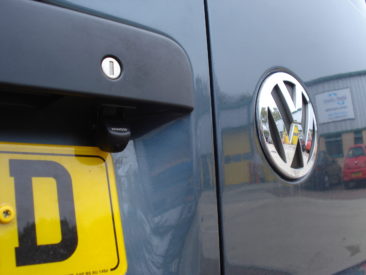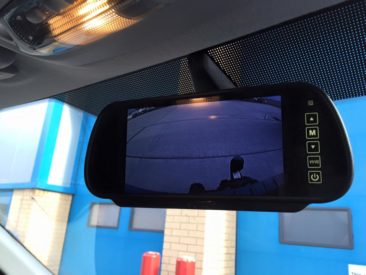 Tracking Systems
Insurance approved Tracking systems give you peace of mind as they monitor your vehicle 24 hours a day . The systems communicate via GPS and GSM to secure control centre . If the vehicle is stolen the control centre will confirm with the owner that it is a theft then lease with the Police to recover the vehicle .
We are authorised dealers for Trackstar, Scorpion and Cobra Tracking systems.
Alarms
We can offer a wide range of systems to meet your individual requirements.
Thatcham Category 1 alarm system , Category 2 immobilisers or 2 to 1 systems that link into your existing remote locking key are all available.
Interior protection can be switched off when the vehicle is occupied leaving the vehicle alarmed and secure as you sleep overnight.
We are authorised dealers for Scorpion , Autowatch, Laserline , Cobra and Meta alarms.