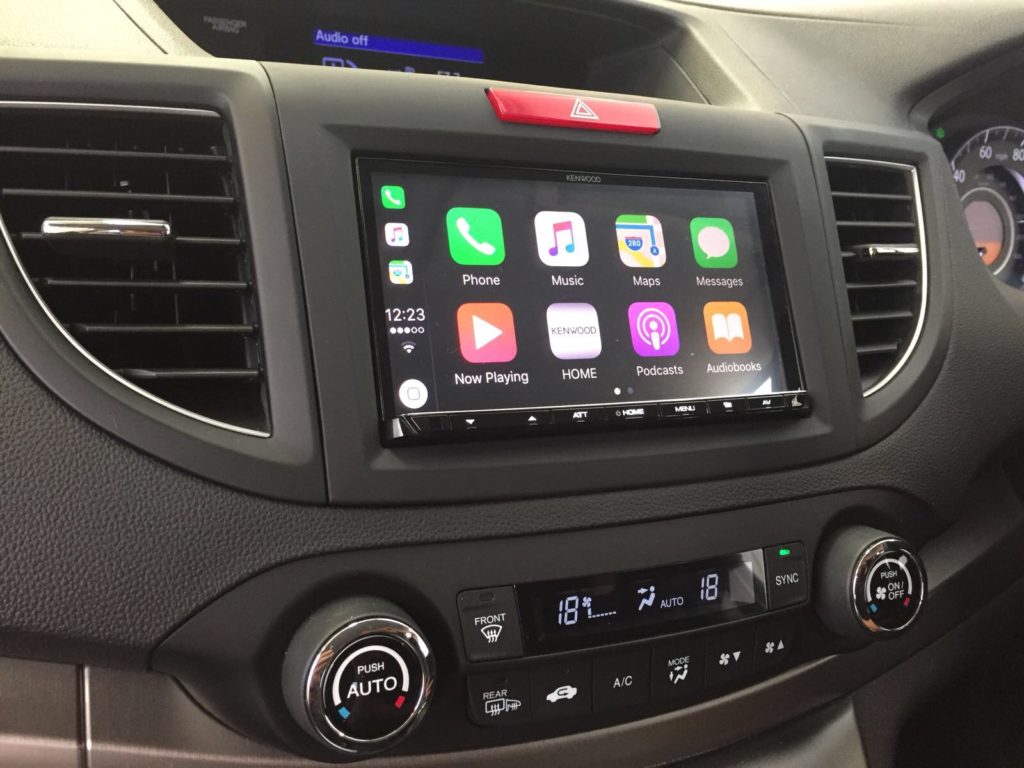 Apple CarPlay – The ultimate co‑pilot.
CarPlay is a smarter, safer way to use your iPhone in the car. CarPlay takes the things you want to do with your iPhone while driving and puts them on your car's built-in display. You can get directions, make calls, send and receive messages, and listen to music, all in a way that allows you to stay focused on the road. Just connect your iPhone and go.
Control with a word, Or a touch.
CarPlay features Siri voice control and is specially designed for driving scenarios. And the apps themselves have been reimagined for the car, so you can use them while your eyes and hands stay where they belong.
Let your iPhone show you the way.
The power and simplicity of Apple Maps is available on your dashboard. CarPlay can predict where you're going using addresses from your email, text messages, contacts and calendars. You can search along your route for nearby petrol stations, restaurants, coffee shops and more. Or just use your voice: "Siri, where's the closest petrol station?" And CarPlay doesn't just guide you — it helps get you there safely by advising which lane to be in to make a turn and showing the speed limit.
The road is calling.
Make calls, return missed calls and listen to voicemail. Siri can help you do all of these things. All you have to do is ask.
Reading and writing is now listening and dictating.
Siri can read, reply and send text messages for you, so you never have to look at your iPhone while driving. Just say "Siri, tell Lynne I'll be there in 20 minutes", and it's done. CarPlay can also play audio messages through the car's speakers.
All your music. Beautifully arranged.
Access all your content from iTunes, your Apple Music membership and additional audio apps using your car's built-in controls. Search by artist, album or song. See what's playing and what's up next. You can ask Siri to play your favourite song by Arcade Fire, or act as your personal DJ.
Invite more apps along for the ride.
CarPlay supports other apps on your iPhone — like your favourite audio, messaging and voice apps. You can personalise your experience by rearranging exactly how your apps appear in CarPlay through settings on your iPhone.
Source: https://www.apple.com/uk/ios/carplay/
Huets offer a wide range of Apple CarPlay compatible units from brands such as Alpine, Pioneer and Kenwood. Why not pop in to store for a demo today or give us a call on 01273 441845 for more information.